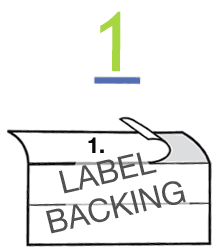 CAREFULLY BEND CARD BACK ALONG ONE OF THE UPPER SCORES OF BACKING TO MAKE A CLEAN BREAK ALONG SCORE.
Do not fold hard.
ONLY PEEL OFF BACKING ABOVE BREAK.
Do not peel off entire backing yet.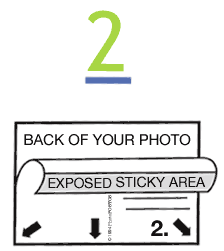 FLIP CARD OVER SO CARD IS FACING YOU.
ALIGN BOTTOM NON-STICKY EDGE (the part that you did not yet peel away) OF POSTCARD TO BOTTOM EDGE OF YOUR PHOTO.